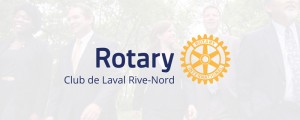 Caribbean degustation – Rum and joys of life
The Rotary Club of Laval Rive-Nord is proud to announce the arrival of their rum tasting event called "Caribbean degustation / Rum and joys of life". It's a great opportunity to meet with other successful business leaders and professionals while tasting 5 exquisite Caribbean rums in a friendly environment.
The surplus generated from our sponsors will contribute to feed the poor and offer personal and professional growth for youth and adults.
Who are we?
The Rotary Club of Laval Rive-Nord is part of Rotary International, which is a Service organization created in 1905 whose stated purpose is to bring together business and professional leaders in order to provide humanitarian services, encourage high ethical standards in all vocations, and helps build goodwill and peace around the world.
Our Rotary Club was chartered in 2011 and has members who are in touch with the Haitian community in Laval and Greater Montreal. This community, an important part of Canadian and Montreal multicultural environment, is known for its Caribbean lifestyle which appreciates to art of great rum tasting and food pairing with selected sides and the rightful music of its place of origin.
What will be YOUR benefit by coming to this event?
First of all your presence will be a proof that you are a business, professional or community leader. It's a great feeling, no?
We'll introduce 5 high quality Rums which will be presented by an experienced sommelier and he will teach you how to appreciate them with specific food. Also, you will be able to feel the vibe of the Caribbean lifestyle through music from the Antilles as kompa, merengue, bachata, zouk, kizomba and so on. At last you will contribute to all humanitarian and charity projects of our club, which is quite wonderful!
You are most welcomed on Friday, the 22th of September 2017 at 7:30PM at Studio Danse 361 located at 8600, Parkway,  Anjou H1J  1N3. There is free parking for everyone and the Metro is nearby.
For more information, please contact Plamen Minchev by phone at 819 329 3736 or by email 2017Caribbeandegustation@rotarylavalrivenord.com
We're looking forward to see you there!
The Rotary Four-Way Test:
Is it the truth?
Is it fair to all concerned?
Will it build goodwill and better friendships?
Will it be beneficial to all concerned?
 "Service above self"